iPhone Screen Replacement in NYC
iPhone screen replacement in NYC is not only affordable, it is easy when you work with our team of experienced experts at Fix iPhone Screen NYC. We offer a number of iPhone services to meet all of your needs including:
iPhone screen replacement

Shattered glass repairs

iPhone display repairs

Charger port repair

Earpiece repair
Speaker replacement

iPhone glass repair and replacement

LCD replacement

Digitizer repair

And more
The services we offer to the residents in NYC are not limited to newer or older iPhone models and we service an array of models to ensure that we can meet the needs of our customers. Some of the models that we commonly repair include:
iPhone 5s

iPhone SE

iPhone 6

iPhone 6s and 6s Plus
iPhone 6 Plus

iPhone 7

iPhone 7 Plus
Fast and Affordable iPhone Screen Replacement in NYC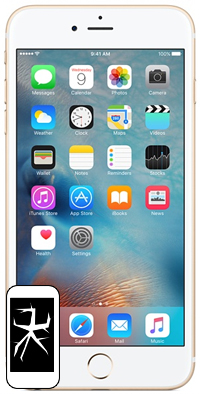 Our dependable and reliable team offers some of the fastest repairs throughout the entire NYC area. We will never leave you longer than you need to be without your phone.
If you are in need of iPhone screen replacement in NYC, our team is ready to work with you. We offer fast, reliable, and affordable replacement services for all versions of the iPhone. Our screen replacement process is simplified to ensure that your old screen is properly removed and a new one placed on your screen quickly. Our team members will perform a final inspection on your phone to make sure that it is functioning properly before you take it home.
Screen Repairs Should Be Handled Quickly
Unfortunately, your iPhone screen can break or shatter when you accidentally drop your phone or when an item falls onto your phone. It can be frustrating when this happens, but it is important that you receive the repairs you need quickly to prevent further damage.
When a crack or shatter occurs on the screen, it leaves your phone susceptible to damage from dust and water. In fact, these things become lodged in the cracks and can damage the screen display on your phone, which may result in tearing of the screen or an unresponsive screen.

Seeking fast and professional iPhone screen replacement in NYC is one way to save your phone and prevent any more damage from occurring.
Bring Your iPhone To Us Today
If you are in need of screen replacement, bring your phone into our shop today. Whether you need to have the LCD replaced or you simply have a question about a scratch on your phone, we are here to help you. Our team is committed to providing you with the best customer service around and the fastest iPhone repairs in NYC.

Don't hesitate any longer and bring your iPhone into our shop today. You will be impressed with how quickly and affordably we can repair or replace your iPhone screen. We are looking forward to providing you with a free price quote and consultation. Any information you need will be offered totally free of charge. We can also diagnose any problems with your iPhone in person. Come in!