Broken iPhone Repairs in NYC
Broken iPhone repairs in NYC are offered to you at an affordable price thanks to our experts at Fix iPhone Screen NYC. We work alongside of you to make sure that you receive the services you need, so that your iPhone is never simply out of order. Some of the services we offer include but are certainly not limited to:
Charger port repair

Digitizer repair

Shattered glass repair

Back camera lens repair

Speaker repair
Back camera repair

iPhone glass repair and replacement

LCD replacement

And more
• • Whether you have a new or older iPhone, our repair services are not hindered by the model or version you carry. Our team of experts are experienced in iPhone repairs and can easily fix the following models thanks to our inventory of quality replacement parts:
iPhone 5s

iPhone 6

iPhone 6 Plus

iPhone 6s

iPhone 6s Plus
iPhone 7

iPhone 7 Plus

iPhone SE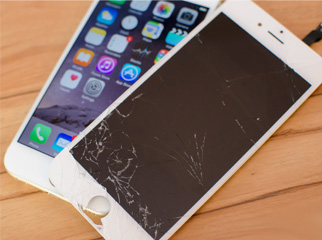 Our team is able to provide you with the fastest and most affordable broken iPhone repairs in NYC. If you find that your iPhone has a shattered screen or the home button does not respond to your touch, bring your phone into our shop today.
We Offer Same Day iPhone Repairs
A broken iPhone is a huge headache and it can cause you to miss out on important calls, emails, and text messages. Since you rely so heavily on your phone, it is important that you are not without it for a long time. Our team is able to offer same day repairs in most cases and we can even replace your iPhone screen while you wait. If a repair will take longer, we will let you know and complete it as quickly as we can. The majority of our repairs take only a matter of minutes – some take as little as 10 minutes!
Bring Your Phone to Us the Moment It Needs Repairs
If you discover that there is an issue with your iPhone, do not wait to seek out repair services. If you allow your iPhone to sit around broken, the problems can become worse. In fact, if your iPhone screen is shattered, water and dust can enter your phone through the cracks and this can lead to damage to the LCD. Further damage can be costly and take more time, which means you will be without a phone for a longer amount of time.

Once you know you need broken iPhone repairs in NYC, visit our shop. Our team will provide you excellent customer service that leaves a smile on your face.
Our Broken iPhone Repairs in NYC Are Affordable
You should not have to pay an arm and a leg for your iPhone repairs. We offer some of the most competitive rates throughout the local area and we can even tailor our repair services to fit within your budget.

Whether you have discovered water damage to your iPhone or your LCD is not responding to your touch, visit our shop now and let us fix your iPhone.

Call us for an appointment!