iPhone Screen Repair NYC/Fix iPhone Screen NYC/Repair iPhone Glass NYC
iPhone screen repair in NYC is affordable when you work with our team of experts. We offer a variety of services to meet your needs including:
Shattered glass repair

Repair iPhone glass

Digitizer repair
LCD replacement

iPhone display repairs

And more
Our services are not limited to older models of the iPhone and we can even repair your newest iPhone right here in our shop. Some of the models that we offer repairs for include:
iPhone 5c

iPhone 5s

iPhone SE

iPhone 6
iPhone 6 Plus

iPhone 7

iPhone 7 Plus
Our team offers some of the quickest fixes throughout the entire NYC area, so you will never be without your phone for longer than you need to be.
Fix iPhone Screen in NYC Today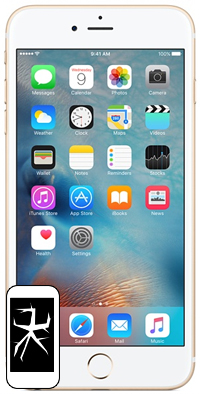 A broken iPhone screen is enough to simply ruin your entire day, but there is something much worse than that and that is if you cannot get your screen repaired in a timely manner. Whether you are a business professional or a college student, you need your phone to access your text messages, receive calls, and more. A broken or cracked screen can quickly put an end to your social life for a few days too!
Don't Wait Any Longer for iPhone Glass Repairs in NYC
Once your screen is cracked, the cracks allow water, dirt, and other harmful substances to enter into your phone. If these substances get in your phone, they can ruin the LCD display that you see. Once the LCD is damaged, you may notice that your phone is no longer responsive and this means a higher repair bill for you in the end.

Fast repairs are necessary to preserve your iPhone and make sure that is does not suffer additional damage due to cracks.

Our experts are ready to see you in our shop today. We will look over your phone and perform a complete inspection to determine the exact problems. We will run any necessary diagnostic tests to identify any issues with the LCD or responsiveness of your phone. Once our inspection is completed, we will fix phone screen in NYC quickly and affordably.

Our prices are competitive and low, so that you do not have to break the bank trying to fix a cracked or shattered screen.
Come See Us Today for Your iPhone Repair Needs
Whether you need to have your screen replaced or the digitizer checked, our team is ready to work with you and provide you with superior customer service that you can rely on. Stop by our shop and let us take a look at your iPhone now. You will be impressed at how quickly we can return your phone to you! Whether the problem is shattered glass, a screen that doesn't respond to your touch or anything else, all you have to do is let us know. Our experts have you covered. Fix iPhone Screen NYC is second to none.